FAQS
How long will it take to get my order?
Production times vary depending on what products are purchased and at what quantity. You can see each products production time by clicking on the 'Specifications' tab in the product detail page. When it comes to shipping, you are able to choose your shipping time during the checkout process.
Do you only sell what is listed on your site?
No, there is almost no note pad that we don't sell, if you can't find what you are looking for on our site give us a call at 855-866-8372. A lot of orders involving custom shapes are placed over the phone.
Can I order less then 250 note pads at a time?
Different products have different minimum quantities, some are less then 250 and some are more. For low quantity requests, we do have a section of the site dedicated to low quantity items. For large quantity requests, please call us at (855) 866-8372 for a custom quote! At this time, we cannot fulfill orders below listed minimum quantities.
Can I order more then 50,000 note pads at a time?
Yes. Please contact us for orders of 50,000 pieces or more at 855-866-8372!
How many sheets can I order per note pad?
Many of our note pads come in different shapes and sizes. The available sheet count is listed on each product page. If you need help sorting out which product is best for you, please call one of our advisors at 855-866-8372!
I received a lower quantity of notepads than what I ordered, what can I do?
Sometimes customers receive less product than what they ordered. Any order that has been fulfilled within 5% is considered fulfillment of orders. For example, if you ordered 500 pads; a shortage of 25 pads is considered a full order. To help some of our customers with this, we will refund the difference within that 5% range upon request.
I received more notepads than I ordered, do I owe you money?
Absolutely not! Sometimes, our machines print over the amount that the customer orders. In those cases, we ship those extras out to you free of charge!

Sticky pads
Custom ScratchPads
Memo Cubes
Flags
Spiral Notepads
Others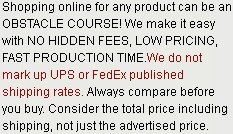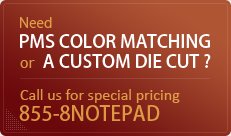 Last month our company had organized investors meet and during that time we chose to give away customized notepads purchased from you. The results were amazing; many people told us that the notepads were best they have ever received. Thanks guys, we are already in process of placing order for next batch.