Value Sticky Pads - Adhesive Notepads
Picture a day of a student, teacher, homemaker, officegoer, and businessperson. Although their requirements may vary but they all struggle to manage their daily tasks, information, or time. They may struggle to memorize formulas, chemical compositions, grocery lists, contact details, etc. You can help them by gifting away custom value sticky pads or adhesive notepads. These are one of the most widely used information managers around schools, homes, offices, or business areas. Yet many marketers try to give it a miss due to their ignorance. By investing in this custom value sticky pads, you can stay assured that you are trying to hand out attractive little mini billboards.
Free Sample • Free Online Proof in 24 Hr • Secure Shopping
Value Building Gets Easier with These Custom Adhesive Notepads
Full color, customized value sticky pads are perfect for brand building and can be employed for the purpose for long time. These adhesive notepads are sure to make a great impact on minds with its uniqueness and purpose. Every time a stick note is stuck off from the pad and affixed over various surfaces for various purposes, your business information is receiving a new high point because people are going to notice it. Branded value sticky pads serve as walking billboards and they provoke people to rely on you.
Custom value sticky pads are perfect for gifting throughout the year because information management is an ongoing process and each of your customer/prospect would love receiving them. You can easily distribute these custom logo imprinted value sticky pads during –
Sales calls
Tradeshows
Business conventions
Family celebrations or you can hand them as compliment along with order or along with next direct mail package.
You can avail these customized value sticky pads in variety of colors, sizes and sheet counts and they are fit for your marketing objectives and brand. You can get your brand logo, slogan and contact information in short imprinted against them prior to gifting.
Although these customized value sticky notepads look very simple, but you can easily harness their marketing power. We suggest you use these branded sticky pads wisely and start promoting your business.
Full color printing, attractive price savings are some benefits that you can avail on bulk orders of these custom value sticky notepads and to know more about the same, feel free to reach out to our print experts at 855-8668372 or mail them at info@NotepadsDirect.com.
We are committed to offer a good shopping experience to all our first or repeated customer and they can avail benefits of free artwork, free art assistance, free online design proof, 110% lowest price match guarantee, and fast turnaround time by purchasing any product from us.

Sticky pads
Custom ScratchPads
Memo Cubes
Flags
Spiral Notepads
Others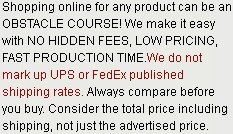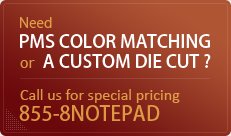 Last month our company had organized investors meet and during that time we chose to give away customized notepads purchased from you. The results were amazing; many people told us that the notepads were best they have ever received. Thanks guys, we are already in process of placing order for next batch.