FAQS
General Questions
What are the products sold at Notepadsdirect.com?
At Notepadsdirect.com, we sell various types of best-selling promotional notepads such as Sticky Pads, Custom Scratch Pads, Memo Cubes, Flags, Spiral Notepads, Custom Memo Books, Magnetic Notepads, Envelopes and Low Quantity Items.
Do you only sell what is listed on your site?
No, we sell not only what is listed on the website but we have also we have tried to include varieties of popular promotional notepads. If you can't find what you are looking for, give us a call at 855-866-8372.
How can I shop at Notepadsdirect.com?
At Notepadsdirect.com, we have organized products under different categories on the left hand side of the screen. Also, customers can shop customizable scratch or notepads and sticky pads from Order by Size (if they are sure about the size of notepad they wish to purchase) and Shop by Design.
Artwork and Files
How should I submit my artwork at Notepadsdirect.com?
You can upload the artwork at the ordering page in the checkout section under the title upload artwork or email it to us at .
What are the accepted file formats at Notepadsdirect.com?
We accept vector artwork in file formats such as .AI, .PS, .PDF, .EPS or JPEG format. If the file is in JPEG format keep the image in less than 600dpi.
What things should I take care, while sending the artwork?
Here are certain things that you should take care while sending us the artwork:
Artwork and images should be in format that is specified by us under the Art Specification Section.
There should be enough space left at edges so that important information is not missed or cut at the edges. We expect you to leave at least 1/8th margin at the edge of each design.
Fonts should be converted into curves/outlines.
Best quality prints are produced from high quality images. Bitmaps should have a resolution more than 600dpi.
Avoid creating designs with borders at the edges of the artwork.
Will you retain my artwork for a long time?
Yes, we do retain an artwork for a long time. It will be retained in our archives and product repository.
Ordering and Payment Information
How should I proceed with my order at Notepadsdirect.com?
We have tried to simplify the order process with an easy-to-follow steps. The steps are very much similar to your purchase at a brick and mortar store. Our products are arranged in various categories, shop by size and shop by design. After you select a particular product, you have to follow these steps:
Add to Cart - You will see add to cart icon below the product. Click on that to add your product to shopping cart.
Proceed to Checkout - Click on Proceed to Checkout and you will get into the Login page. You can enter your existing user id and password or select the Express Checkout option. If you are a new customer, don't forget to create an account.
Delivery and Payment Options - Edit your shipping and payment address, if there are changes or else proceed with your order.
Shipping Methods - Select your preferred shipping method from FEDEX ground (3-7 business days), FEDEX 2 day and Standard Overnight.
Payment Method - Select your payment method – Debit card/Credit Card, PayPal and Pay after Approval of Artwork.
Upload Artwork/ Get Free Design - You can upload your artwork in any of our specified formats or request a free design.
Completion – A confirmation mail will be sent to your registered email id.
What are the charges associated with my order?
With each order, you will see price components that are calculated on the basis of ordered quantity. The minimum ordering quantity is pre-set and you cannot order lesser than that. The item price and total price is displayed on the screen. The shipping charges are added in the later stage when you select the appropriate shipping method.
*Our prices may change without prior notice.
Do I have to pay extra if your prices change after my ordering?
No, you don't have to pay anything extra if your product is already under production. If your product is still lying in the shopping cart, you may be required to pay extra.
Can I receive rush orders?
We don't offer rush orders because notepad printing is a complex process.
Can I pay after receiving the order?
No, we only go into production after accepting the payment. You have provision to pay after the design approval.
How can I pay for my purchases at Notepadsdirect.com?
We accept American Express, Visa Card, Pay Pal and Debit cards.
Is my payment information safe?
Yes. At notepadsdirect.com, we have used the latest encryption technologies to ensure safety of the payment information entered.
For any queries regarding the sales tax and tax exempt status, you can contact us at 855-866-8372.
Orders and Returns
Can I order less then 250 note pads at a time?
Different products have different minimum quantities, some are less then 250 and some are more. For low quantity requests, we do have a category of low quantity items. For large quantity requests, please call us at (855) 866-8372 for a custom quote! At this time, we cannot fulfill orders below the listed minimum quantities.
Can I order more than 50,000 note pads at a time?
Yes. Please contact us for orders of 50,000 pieces or more at 855-866-8372!
How many sheets can I order per notepad?
Each product has fixed sheet sizes. Mostly you will find 25, 50 and 100 sheet notepads. So you can order only sheet sizes available with each product. If you need help sorting out the best product for you, please call one of our advisors at 855-866-8372!
I received a lower quantity of notepads than what I ordered, what can I do?
It is quite unlikely that you receive an order lower than actual ordered quantity. If this happens you can contact our customer service department by phone at 855-866-8372 or write to us at .
I received more notepads than I ordered, do I owe you money?
Absolutely not! Sometimes our machines print over the amount that the customer orders. In those cases, we ship those extras out to you free of charge!
Is it possible for me to cancel the order in the production stage?
No, we cannot accept your request for cancellation once the order enters into the production stage. If you want to cancel your order, contact us as soon as you make the payment or give approval to the online design proof offered by us.
Can I get a free sample for the product that I wish to purchase?
We offer free samples based on the availability. To request a free sample, call us at 855-866-8372.
Shipping and Delivery
Do you ship outside USA?
No, we only ship within the contiguous USA.
Where do you ship to?
All USA states and territories, excluding PO Boxes
All Canada provinces and territories

Receiver is responsible for any applicable duties, taxes and fees.

Not all shipping methods are available for all shipping addresses or for certain items.
How long will it take to get my order?
Production times vary depending on ordering quantities and the types of products purchased. You can see production time by clicking on the 'Specifications' tab with standard turnaround time. Also, you can select your preferred shipping method on the payment page to fasten the process.
Can I receive my order faster than the mentioned production or delivery times?
Yes. We follow the shortest turnaround time in the industry. We will ship the order as soon as we finish the production.
What are the regular production and delivery times?
There are many factors that will affect production and delivery times. Orders are subject to possible standard shipping and production delays that are out of our control. However, if you are working with a tight time frame, please contact our customer service department at 855-866-8372 and we will do our best to help you out with rush production and/or expedited shipping.
Price Match Guarantee
Can I raise claim for a price match on a product that I recently purchased from Notepadsdirect.com?
Yes, you can raise the claim for a price match. For more details on price match guarantee, check our price guarantee section.
Privacy Policy
What information should I enter to purchase from you? What are the security measures taken to ensure privacy of my information shared with you?
All details about the information collected by us and their security is available at the Privacy Policy.
Terms and Conditions
What are the terms and conditions for purchasing from the Notepadsdirect.com?
All our terms and conditions of business with Notepadsdirect.com are mentioned at Terms and Conditions. It is highly recommended to read the document before proceeding with your order.
Contact Us
How should I contact customer service department at Notepadsdirect.com?
You can contact our customer service department in following ways:
Walk in –
NotepadsDirect.com
720 Industrial Park Ave
Asheboro, NC 27205
Write to us at –
Call us at - 855-866-8372 (Toll Free)
Fax - 919-908-1200
You can also contact us through a Contact Form.

Sticky pads

Custom ScratchPads

Memo Cubes

Flags

Spiral Notepads

Others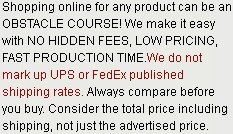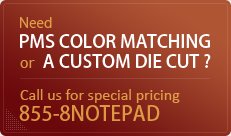 Last month our company had organized investors meet and during that time we chose to give away customized notepads purchased from you. The results were amazing; many people told us that the notepads were best they have ever received. Thanks guys, we are already in process of placing order for next batch.