Custom Shape Notepads & Sticky Notes
Custom shape notepads and sticky notes inspire you to think outside the box and rise above competition with ease. No doubt, square notepads are iconic and classic, but why should not you to stretch your outreach a step ahead with these colorful and pre-designed shapes and sizes. These notepads can be customized with your brand logo or business information in bright colors prior to gifting. Marketers who are searching for typical notepad can easily dive into our collection featuring wide selection of adhesive pads and non-adhesive pads in various shapes and sizes. You can get your business information imprinted on each page of these sticky notes. People are certainly going to retain these customized shape notepads and sticky notes as long as possible due to their appealing shapes, which means long-term visibility to your brand name!
Free Sample • Free Online Proof in 24 Hr • Secure Shopping
Rise above the Competition by Investing in these Customized Shaped Notepads & Sticky Notes
Custom shaped pads work for most marketers because these offer best visibility against all odds. Advertises who cannot afford to make huge expenditure on promotional gifts can always rely on these unique shaped pads to generate strong brand impressions because people love carry them always. This custom shaped pad are offered in wide range of shapes such as computer, truck, telephone, tooth, apple, shopping cart, arrow and many more. These shaped notepads make a good brand generation tool in all seasons. Marketers who are trying hard to find their footage in niche can easily rely on these shaped notepads.
Be it schools events, corporate events, family reunions, individual celebrations or any other mass attended or moderately represented events, you can always make a beeline by handing out these notepads. These notepads are sure to make impression on minds with their finely honed shapes. People would be happier to scribble their emotions, impressions, errands, office information, and various other things over these notepads.
At NotepadsDirect.com, you can select custom shaped promotional sticky and non-sticky notes at best buy prices. This growing selection features Post-It notes and non-adhesive notepads in over 30+ shapes. These promotional sticky notes can be availed in 25, 50 or 100 sheet pads, and they are offered with your FREE four-color process imprint. Some of the best selling promotional notepads in our collection include light bulb sticky notes, stop sign sticky notes, star shape sticky pads, dollar sign sticky note pads and #1 shaped sticky notes.
You can buy these custom shaped notepads by giving us a call at 855-866-8372! You can get these notepads imprinted with your business information at very small price from Notepadsdirect.com. To know more about the same, feel free to write to us at info@Notepadsdirect.com.

Sticky pads
Custom ScratchPads
Memo Cubes
Flags
Spiral Notepads
Others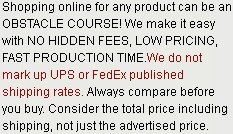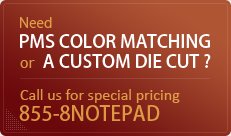 Last month our company had organized investors meet and during that time we chose to give away customized notepads purchased from you. The results were amazing; many people told us that the notepads were best they have ever received. Thanks guys, we are already in process of placing order for next batch.