Custom Printed Scratch & NotePads
Custom printed scratch and notepads make powerful branding gifts during trade-shows or business events. These products find great pitch with people of various demographics and they will remind customers about your brand, every time they use it for jotting down their random thoughts, appointment reminds, quick memos, errand lists, or to-do lists. These branded custom scratch and notepads can be included within corporate gift baskets or they make great employee holiday gifts or tradeshow giveaways. You can easily toss away the cheapest promotional items that you have been long relying upon in favor of these cost effective promotional items. NotepadsDirect.com offers one of the most value effective selections of customized scratch and notepads; here you will be able to find the perfect choice for all your needs.
Free Sample • Free Online Proof in 24 Hr • Secure Shopping
Gift Away Values with these Custom Printed Scratch and Notepads
Over the years, perhaps marketers have tried and tested many small promotional pieces for value building. They were partially or moderately successful in their efforts. Whereas, when custom printed scratch and notepads are concerned, people would be happier to retain them and use them often. Nobody feels like throwing customized printed scratch and notepads away.
Marketers who are new to the notepad advertising can easily start with these customized scratch and notepads offered in different sizes, numbers of sheets and color. Offered in various price ranges, marketers can utilize these notepads or scratch pads for value building during their first tradeshow or corporate event. These notepads make an awesome choice as an acknowledgement gift, individual thanking token, tradeshow giveaway, corporate gift, school giveaway and many more. These logo imprinted scratch and notepads are sure to strike with vast demographics and people of all ages because everyone has something to write and scribble. Although there are mobiles, iPads and many more to set reminders, but nothing can match the emotional and mental satisfaction that these customized notepads gave. This is why still these custom scratchpads and notepads are in demand.
You can get any of these customizable notepads or scratch pads customized with your brand logo or other brand credentials in full-colors. We are one of the largest suppliers of custom imprinted notepads in the USA. Our team works closely with marketers trying to understand their requirements and we ship to any location within continental USA. Thank you for stopping by this page. For questions, feel free to give us a call at our tool free number 855-866-8372 or mail your requirements to info@NotepadsDirect.com.

Sticky pads
Custom ScratchPads
Memo Cubes
Flags
Spiral Notepads
Others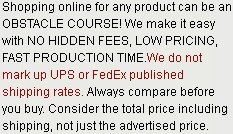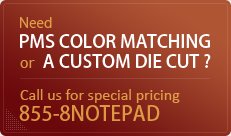 Last month our company had organized investors meet and during that time we chose to give away customized notepads purchased from you. The results were amazing; many people told us that the notepads were best they have ever received. Thanks guys, we are already in process of placing order for next batch.