Terms and Conditions
Website Terms & Conditions:
Your use of NotepadsDirect.com, website is governed by the terms, and conditions set forth in this document. Please do a careful review of this document before making any purchase. By using our website and purchasing from us, you are admitting that you agreeing to accept the terms and conditions set by this document. If you do not agree with the terms and conditions, please avoid using this website.
NotepadsDirect.com, reserves the right to change these terms and conditions without any prior notice and it is entirely the responsibility of the user to review this page to know amendments before purchasing. The amended terms will automatically take effect the date on which the document is posted. By continuing with your usage of this website, you are agreeing to comply with such amendments.
Purchase Payments
At NotepadsDirect.com, we accept all major Credit cards such as VISA, Master Card, American Express, Discover Card, and debit cards. Sales tax of 6.75% is charged for products shipped anywhere within North Carolina. Our prices are quoted in U.S. currency, which means all transactions should be conducted in the same.
Pricing & Availability
Promotional merchandise is fast –moving in nature, which means their availability and pricing may change without prior notice. If the product that you want to order or already ordered is not in stock, we will do our best to keep you informed about its next availability. Anticipated delivery dates depend on your approval of artwork, payment, ordering quantity and stock availability.
Information Requirement
If you wish to purchase from us, you will be required to furnish some vital personal information, including credit card or payment information. By entering the information on our website, you are agreeing that the information supplied by you is correct. Any charges incurred during the purchase such as sales tax, shipping, handling and processing should be paid by you.
Artwork provided by you
By supplying us artwork, you are granting us (a) non –exclusive license to reproduce such user material to meet your order requirements. (b)You warrant and represent that you own all rights to this user material and possess legal right and authority to grant us this non-exclusive license.
Pre-Production Artwork Approval:
While placing a order at NotepadsDirect.com, we will send you a free online digital proof through the email id given. We expect the customer to review this proof carefully for spelling, artwork, copy positioning, logo, imprint colors, or any other missed errors etc. Once the final proof has been approved, any error in the printing or embroidery that was approved by the customer will become the sole responsibility of the customer. NotepadsDirect.com bears no responsibility for the issues arising from this conflict.
Defective Merchandise Returns
NotepadsDirect.com, offers 100% guarantee for the merchandise sold on this website. Defective merchandise will be accepted for repair or exchange within 30 days from the date of purchase. No refunds will be given after a month. Please note that all refunds are at the discretion of NotepadsDirect.com.
Typographic, Image & Technical Errors:
At NotepadsDirect.com, we always strive our best to offer 100% accuracy; however, inaccuracies or errors may occasionally crop up due to reasons beyond our control. If you come across any such inaccuracies or errors, please contact us, we will do our best to correct it. We reserve the right to correct such inaccuracies without the prior notice.
Limitations on Liability and Warranty Disclaimer:
NOTEPADSDIRECT.COM, MAKES NO ADDITIONAL OR INDEPENDENT WARRANTIES.NOTEPADSDIRECT.COM DISCLAIMS ALL IMPLIED OR EXPRESSED WARRANTIES TO THE FULL EXTENT PERMISSIBLE BY APPLICABLE LAW.
NOTEPADSDIRECT.COM, SHALL BE NOT BE HELD LIABLE FOR ANY KIND OF INCIDENTAL, SPECIAL, CONSEQUENTIAL OR PUNITIVE DAMAGES, EVEN IF POSSIBLITY OF SUCH DAMAGES HAVE BEEN ADVISED. THE MAXIMUM LIABILITY FOR NOTEPADSDIRECT.COM, SHOULD BE LIMITED TO THE PURCHASE PRICE OF THE PRODUCT. NOTEPADSDIRECT.COM, SHALL NOT BE HELD LIABLE FOR ANY DAMAGES CAUSED BY USING ITS WEBSITE OR OTHER RESOURCES LEADING TO ANY DIRECT, INDIRECT, PUNITIVE, CONSEQUENTIAL AND INCIDENTAL DAMAGES. NOTEPADSDIRECT.COM, MAKES NO WARRANTY ABOUT THE PERFORMANCE OF THE PROMOTIONAL MERCHANDISE SOLD ON ITS WEBSITE. IT SHOULD NOT BE HELD RESPONSIBLE FOR LOST DATA, ERRONEOUS CONTENT, SYSTEM DOWNTIME, ETC.
Governing Law
Any dispute between you and NotepadsDirect.com due to the product pricing, quality or request of information shall be governed in accordance to the laws in the State of North Carolina. If you disagree about any provision of the Terms and Conditions or feel that it is legal and invalid, it should not affect the validity and enforceability of rest of the portions. Any litigation about the transaction or any disagreement between the customer and NotepadsDirect.com, shall be brought in the federal or state courts located in Asheboro, North Carolina and the customer hereby submits and agrees to this jurisdiction as proper.
Cancellation Policy

Return Requests
NotepadsDirect.com will not accept returns for any customized product for any reason other than manufacture defect and the return shipment should bear the appropriate Order ID on the package. In the case of defective products, the returned items must be 100% complete in its original condition with all registration card (s), packaging, manuals, software and accessories. We reserve the right to refuse a return on the product, which doesn't fit into these requirements. Returns may be subject to a 20% restocking fee.
Use of Trademarks
Promotional merchandise with logos shown on our website are only for the purpose of illustration and they are never intended to suggest that NotepadsDirect.com owns any rights to these trademarks or that NotepadsDirect.com would make these products with trademarked or copyrighted logos available for other purchases, without the permission of the owners of those trademarks and logos. By buying from us, you grant us permission to display these products containing your logo on our website or to distribute them as samples of products available with us. We agree not to sell any of your customized products without your written consent.
On purchasing from us, you agree that the usage of contents on the NotepadsDirect.com will be limited to a shopping resource for non-commercial use.
Proprietary Rights
The NotepadsDirect.com logo, trade names and trademarks are sole properties of their owners. You are not permitted to use, copy, manipulate or reproduce such logos in any manner without written consent of the owner.
The entire contents of NotepadsDirect.com including images, text, photographs, video, graphics, headers, icon, software and information are collectively subject to trademark, copyright or other proprietary rights or licenses held by NotepadsDirect.com. All content is copyrighted as a collective work under the U.S and other international copyright laws. By using this website, you agree not to use, copy, create or modify any part of this content for your personal benefit. In addition, you should not transmit, distribute, repost, publish and frame the content in any other manner defaming the company, or employees. NotepadsDirect.com reserves right to cancel or refuse any orders placed for services or products where the sale os such items is prohibited by your state.
Blank Orders
We do not offer free returns on blank orders. Blank orders can be returned to our production facility and will incur a 20% restocking fee. The total payment minus shipping and the 20% restocking fee will be refunded upon receipt of the return.
Please contact customer service for the return address on your order.
If you have any questions about our terms and conditions, please contact us at:
720 Industrial Park Ave
Asheboro, NC 27205
Phone: 855-866-8372 (Toll Free)

Sticky pads

Custom ScratchPads

Memo Cubes

Flags

Spiral Notepads

Others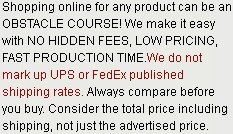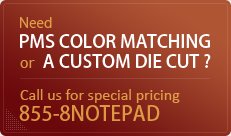 Last month our company had organized investors meet and during that time we chose to give away customized notepads purchased from you. The results were amazing; many people told us that the notepads were best they have ever received. Thanks guys, we are already in process of placing order for next batch.