Custom Flag Booklets
Do you wish to remind everyone about your brand while they are reading, setting reminders or organizing their files? Grab these custom flag booklets and start building bridges. By investing in these colorful custom flag booklets, you can ease their worries about information management. Custom flag booklets are largely sought for non-permanent highlighting. Be it over your favorite novel, office registers or other documents of interest, you can highlight certain sections or pages by sticking these multicolored or single colored flags. This not only delivers freedom from highlighter, pencil or pen marks, but also brings great brand exposure. You can enjoy the benefits such as free artwork, free design, free online proof and lowest price guarantee for these customized flag booklets.
Flag off Your Campaign with Custom Flag Booklets
Custom flag booklets make intelligent business gifts throughout the year because they are used for highlighting. These lend great working space to marketers for imprinting business information and to those who wish to write some reference notes on it. It suits advertisers who are on the lookout for purposeful, bold and indulging promotional gifts. Needless to say, these personalized flag booklets will allow marketers to flag their campaign in a stylish way.
Colorful logo printed flag booklets also suit marketers working in a small budget and wishing to build recognition and help customers in small ways. These flag booklets are sure to stir positive responses within everyone who uses them. They are going to use these flags for labeling their pages, notebooks, books or sections of official books.
We have put across a thoughtful collection of custom flag booklets that are case bound and offered with full color booklets. These flag booklets will be a perfect gift to everyone. You just need to find creative opportunities to hand them out either to your employees, guests or students. Available in different sizes, sheet counts and budget ranges, you can easily select the one that meets your promotional requirements and appeals to your customers.
If you are unable to find the right kind of logo imprinted flag booklets that fits into your budget, feel free to approach us at 855-866-8372 or write to us at info@Notepadsdirect.com.

Sticky pads

Custom ScratchPads

Memo Cubes

Flags

Spiral Notepads

Others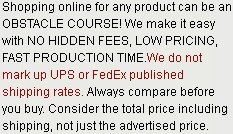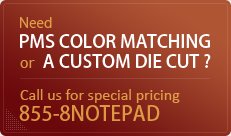 Last month our company had organized investors meet and during that time we chose to give away customized notepads purchased from you. The results were amazing; many people told us that the notepads were best they have ever received. Thanks guys, we are already in process of placing order for next batch.