Custom Printed Adhesive Notepads
Free Sample • Free Online Proof in 24 Hr • Secure Shopping
Custom printed adhesive notepads are preferred by advertisers who trying to forge a distinct identity. These personalized adhesive notepads are offered in multitude of shapes, sizes and marketers can choose them as per their niche or personal requirements. We offer an adorable selection of adhesive notepads, which largely fulfill most niche requirements and at the same time meet quality, personal and promotional requirements. These customized adhesive notepads or custom sticky pads work perfect for marketers who are new in the niche and struggling hard to address their clients, customers, or prospects in a befitting way. Free art setup, free sample, free online design proof and free design assistance are some of the value benefits offered for products in this category.
Add Glamour to your Campaign with Custom Printed Adhesive Notepads
Custom shaped sticky note pads adds a glint of pizzazz to your campaign and boosts spirits of recipients in unique ways. It's very hard to ignore these adhesive notepads because they are sure to catch attention with their impressive shapes. We offer stick notes in shape of light bulbs, telephone, apple and a lot more. And not only you can prefer them in the shape of your choice, but also get them imprinted in the colors of your choice. These custom shaped notepads behave as walking billboards and offer endless possibilities for value building. Marketers who are working in extremely constrained budgets can seek discounts by bulk ordering these sticky notepads.
Custom printed adhesive notepads are offered in various sheet sizes and marketers can choose it as per their requirements or budget. Advertisers can get these notepads imprinted with their business information such as logos, taglines, or graphic logos, etc. Personalized shaped sticky pads not only make a typical choice for promotional events such as tradeshows, corporate events, and many others, but also a great gifting choice during individual celebrations such as weddings, birthdays, milestone events, etc.
By gifting away, these customized adhesive notepads, you can ensure that your brand logo or brand information prominently feature over any surface, where a recipient wishes to stick them. We offer special price benefits to marketers with varied requirements. Being a fiercely competitive marketer, you can always call us at 855-866-8372 to know more about pricing, colors and imprint options or write to us at info@Notepadsdirect.com.

Sticky pads
Custom ScratchPads
Memo Cubes
Flags
Spiral Notepads
Others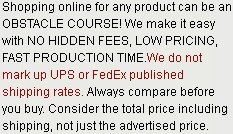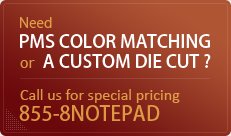 Last month our company had organized investors meet and during that time we chose to give away customized notepads purchased from you. The results were amazing; many people told us that the notepads were best they have ever received. Thanks guys, we are already in process of placing order for next batch.