Custom Printed Memo Books
Equip your arsenal with these custom memo pads for your promotional event or corporate event! These logo imprinted memo pads are great for value building because everyone finds them scribble and pocket friendly! These pads not only keep your message exposed but also offer large purpose area for users to act upon. The best thing is these pocket-sized notebooks suit everyone with a mission to excel and deliver value effective promotional gifts to their customers. We offer a sizeable collection of these pocket sized notepads in sizes ranging from 2.625 x 5 to 8.375 x 10.625 with multiple imprint options and budget sizes. Marketers can streamline their preferences depending on their target audience, occasion, budget, and others. They are sure to make mark on minds by gifting any of these customized memo pads.
Free Sample • Free Online Proof in 24 Hr • Secure Shopping
Allow them to capture their thoughts and information on go with these custom printed memo books
These promotional memo books make great handouts during school events, tradeshows, corporate induction programs, corporate orientation workshops, fundraisers, charity events, and many more. Unlike many other typical custom notepads, custom printed memo books make great elementary school incentives or summer camp giveaways, too. People love to use them for scribbling quick notes in classrooms, homes, offices and other areas, wherever it becomes necessary. Being handy and light in weight, they can always carry it around, too.
As per a reliable marketing intelligence, almost 69% of people love to retain usable promotional gifts. Ultimately, people think highly of brand, which took their requirements and comfort into consideration, while acknowledging them. Usable products always bring customer loyalty and doubles brand reputation. Ample scribbling space, big sheet sizes and 1-2-3-4 color imprints on the durable cover makes these memo books a standout in the crowd. Most of these writing pads are offered with ruled or blank pages and marketers can choose them accordingly.
To know more about budget pricing, imprinting, or color choices or anything else of quality or distribution channels, feel free to get in touch with our experts at 855-866-8372 or mail us at info@notepadsdirect.com. You can receive these customized memo books anywhere in continental USA without hassle.
Fast turnaround time, extremely budget friendly pricing, free artwork, free design, free online design proof, secure shopping and 110% price match guarantee are some of the Notepadsdirect.com advantages, which have worked in our favor.

Sticky pads
Custom ScratchPads
Memo Cubes
Flags
Spiral Notepads
Others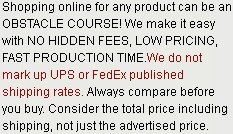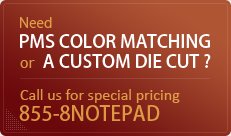 Last month our company had organized investors meet and during that time we chose to give away customized notepads purchased from you. The results were amazing; many people told us that the notepads were best they have ever received. Thanks guys, we are already in process of placing order for next batch.