Custom White Sticky Pads
Do you still believe that a custom white sticky pad is the only elegant warrior in your campaign? Perhaps you are trying to capitalize on that people's fascination with white paper pads! Do you know sticky notepads with white papers possesses more power to capture imaginations than multicolored ones because they can best reflect any colorful information imprinted on them and still encourage people to try out them! Utilizing the benefit of full color imprinting, you can easily get your notepads customized with brand logo or business message or contact information prior to gifting. These customized white sticky pads make an indulging choice for all big, small, and mid-sized marketers trying to propel their brand name to new heights.
Free Sample • Free Online Proof in 24 Hr • Secure Shopping
Make Your Brand Information over White with these Custom White Sticky Pads
Custom white sticky pads are perfect for school, home, and office use. They not only make a great gifting item, but also a great value builder for everyone trying hard to strike positive word with their customers. These adhesive pads are offered in various page sizes with 25 & 50 being most popular and ones in sizes 2 X3, 3 X3, 4 X3, 4 X4, 4 X6, 5 X3, and 11 X5 are our hot sellers.
Personalized white sticky pads easily show up against any surface with ease due to their overpowering impartiality and people still love scribbling against them. They can easily capture the essence of information be it those chaste grocery lists, light-bulb humor, quickie facts, some reminding cues or anything one wants to scribble over them.
Make sure your brand sticks out amongst clutter with this little sticky notebook! You can grab appreciation of your customers easily by gifting these customized white sticky pads during next tradeshows or business convention or any regular family function, etc.
Just imagine about these affordable customized white sticky pads bearing your business impressions on each page and keep people reminding about your business, whenever they take it out to note down something! You can call us at 855-8668372 or contact us at info@NotepadsDirect.com and our sales representative would be happier to assist you in segregating your requirements.
You can avail benefits of free design, free artwork, free online design proof, lowest price match guarantee, and fast turnaround time on any product or other products on this website.

Sticky pads
Custom ScratchPads
Memo Cubes
Flags
Spiral Notepads
Others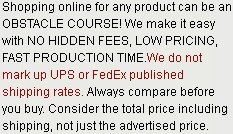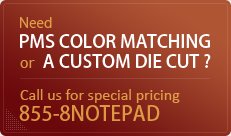 Last month our company had organized investors meet and during that time we chose to give away customized notepads purchased from you. The results were amazing; many people told us that the notepads were best they have ever received. Thanks guys, we are already in process of placing order for next batch.