Custom Printed Memo Holders
Are you looking for a promotional product, which delivers ultimate satisfaction and long term benefits? Perhaps your search ends here on these custom memo holders, which will not only lend you satisfaction, but also offers long term benefits against the investment. Our custom shaped memo holders easily strike with the crowd due to their appealing contour, durability, and purpose. Any brand can make use of these trendy promotional tools and achieve scalable results in business. These note holders help to organize customized memo notes in a way that it becomes easily visible, comes handy and serves as an asset to the table decoration.
Free Sample • Free Online Proof in 24 Hr • Secure Shopping
You can easily distribute these promotional memo holders during next available promotional opportunity because these find great usage in homes as well as office. Even if there are many other sources of information management, people are sure to look out for things, which give them mental and emotional satisfaction, so it is likely that will rely more and more on these imprinted note holders.
As people start realizing that you have offered them product, which helps them to reorganize their daily schedules effectively, they will be encouraged to prioritize your brand information and will be open to buying it from you or taking your services. Since these custom note holders bear appealing designs, most of the recipients would proudly display it on their work tables and they won't bragging it to others, which will ultimately bring you increased brand exposure.
You can have a good look at all the value effective promotional note holders that Notepadsdirect.com has to offer. You can seek them in unique shapes, vibrant colors, and get them customized with your brand credentials such as logo or slogan or any short contact detail such as web address or email.
If fail to find a custom memo holder, which doesn't meets your promotional requirements, feel free to reach out to us at 855-866-8372 or write to us at info@Notepadsdirect.com.
On buying these appealing customized memo holders from us, you are all set to enjoy benefits of free artwork & free online design proof, fast turnaround time, safe and secure shopping, etc. Ultimate quality and cheapest possible price are our exclusive features, which has helped us to score over other competitors selling similar products.

Sticky pads
Custom ScratchPads
Memo Cubes
Flags
Spiral Notepads
Others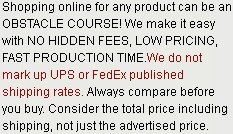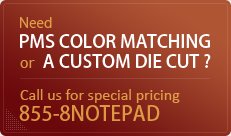 Last month our company had organized investors meet and during that time we chose to give away customized notepads purchased from you. The results were amazing; many people told us that the notepads were best they have ever received. Thanks guys, we are already in process of placing order for next batch.