Custom Printed Sticky Notepads
Custom sticky notepads can easily make your business messages stick. These sticky notepads have been indispensible part of communication before the arrival of computers and mobile reminders. You can easily make important information stand up on a messy desk by sticking these removable customized sticky notepads or Post-it note pads. These notepads can be conveniently stuck to walls, monitors, desks and many other appliances. Be it students, office goers, homemakers, healthy aficionados or anyone in haste, they can still rely on these Post-it-notepads for communicating. Being offered in different colors, shapes, sizes and themes, these sticky notepads make one glamorous brand builder for people of all interests.
Free Sample • Free Online Proof in 24 Hr • Secure Shopping
Stick Your Business Name with these Custom Sticky Notepads
Get your brand logo, slogan, and promotional information imprinted on these promotional sticky notepads prior to gifting! These sticky pads were around even before the Great Depression of 1920's and people used these small sticky pads to circulate information within their circles or office or homes.
Today, you can choose these personalized sticky notepads in various colors, sizes, sheet sizes, and budget sizes. These make a great giveaway during tradeshows, business conventions, and even individual events such as anniversary, wedding, or birthday celebrations. Marketers and headstrong individuals, who wish to thaw the ice in relationships - can offer it as an acknowledgement token or as a value builder depending on the choice.
Personalized sticky notepads are popular with people of all age groups. We offer vast collection of sticky notepads designed for home users, students, office users and others trying to pass information. You can invest in this product, keep customers informed of your brand, products and services, and encourage them to develop their communication skills.
Some unconfirmed sources indicate that Great Depression of 1920 has resulted for lack of these Post-it notes because companies failed to find the right things to promote their business. Kids struggled to keep their parents reminded about their essentials or other homemakers struggled to manage their groceries without these sticky papers. If you wish to save your customers from such dilemma, feel free to hand them any of these customized sticky notes.
You can select from the displayed items and suggest your personalization preferences. We assure you fully satisfying adhesive notepads reaching your doorsteps in shortest possible time. Feel free to reach out to us at 855-8668372 or contact us at info@NotepadsDirect.com.

Sticky pads
Custom ScratchPads
Memo Cubes
Flags
Spiral Notepads
Others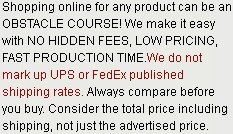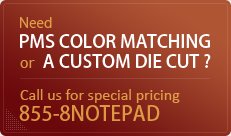 Last month our company had organized investors meet and during that time we chose to give away customized notepads purchased from you. The results were amazing; many people told us that the notepads were best they have ever received. Thanks guys, we are already in process of placing order for next batch.