About Us
Welcome to Notepads Direct!
Are you seeking custom notepads for business or personal gifting? Then you are at the right place. We offer wide range of customized or personalized notepads fit for promotional or personal gifting.
We offer various notepads to suit every occasion and you can choose from different types of notepads offered as,
Sticky pads
Scratch and notepads
Legal pads
Custom shaped pads
Custom sticky cubes or Micro Cubes
Custom non sticky cubes or Memo Cubes
Custom Memo Holders
Custom Spiral Notebooks
Custom journals
Magnetic Notepads
All these products aid in taking down information in a fastest and reliable way.
Over the years, custom notepads have shot into prominence as a favored gifting item due to their high end utility. They can be utilized for taking down information of various kinds by home and office going audience. Advertisers targeting different sections of demographics can always rely on these notepads to gain easy attention because people use it for scribbling: utility list, drawings or caricatures, taking down quick educational or official notes, and etc.
Indeed, custom notepads make a good gifting item in all seasons!
Notepads Direct Specials
Notepads Direct is an industry leader due to it's purely customer centric work behavior. Following features make us distinct from others –
Multicolored notepads with and without ruled lines to suit the promotional requirements of all types of advertisers.
Free art set up and free design.
Free online design proof in 24 hours.
Zero payment required until the approval of art work.
Lowest price guarantee – 5% discounts offered on price match.
Lowest customization fee offered on bulk purchases.
Reliable shipping options to ensure fast delivery.
Notepads Direct will work with you to ensure that notepads reflect the brand information in best possible way. We take utmost pride in announcing that our clients range from small scale personal business owners, to multinational corporations, and non-profit organizations. Our business practices such as 24x7 customer service, fast and reliable printing methods and unbeatable prices have added to our growth.
You can reach out to us: by calling on toll free- 855-8 NOTEPAD (855- 866-8372) or mailing us on info@notepadsdirect.com

Sticky pads
Custom ScratchPads
Memo Cubes
Flags
Spiral Notepads
Others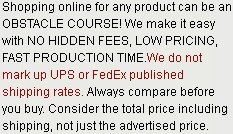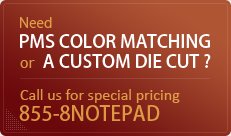 Last month our company had organized investors meet and during that time we chose to give away customized notepads purchased from you. The results were amazing; many people told us that the notepads were best they have ever received. Thanks guys, we are already in process of placing order for next batch.