Note Book
Free Sample • Free Online Proof in 24 Hr • Secure Shopping
Whether scribbling personal thoughts, professional notes or class reminders, customize spiral notebooks encourages to bring out the best ideas in people. This is the reason they are largely preferred for distribution by marketers targeting large customer segment in diverse demographics. These perforated notebooks printed with your logo will become a great gift throughout the year as information exchange or information management is a continuous process. Order these made in USA spiral notebooks at Notepadsdirect.com and enjoy the benefits of free design, free artwork, free online design proof and our 110% price match guarantee.
Only Expect High Returns at Minimum Investment with Custom Spiral Notepads
Everyone finds a suitable use for customized spiral notepads. At Notepadsdirect.com, you will find a sizeable selection of custom spiral notebooks in different shapes, sizes and budget ranges. Whether a customer is looking for an eco-friendly promotional spiral book or a simple plastic one, they can easily find it in our collection. Marketers have the liberty to get the notebooks custom printed with their names, logos or promotional slogans before distribution. This creative collection features promotional spiral notebooks in full color or with dash of color such as green, pink, red, orange, purple, blue and yellow. Some of these notebooks are offered with jotter pens making it a complete package. Marketers can hand out these colorful notebooks to their present or prospective customers because everyone will love them.
These personalized spiral notebooks are easily manageable in bags, purses or large pockets and people can use it in appropriate places for scribbling their notes or to-do lists. Customized journals make impressive corporate gifts. It can be included in corporate gift bags or handed out during business conventions, tradeshows and many other social, formal/informal as well as fund raising events, community programs, nature programs, etc.
Get ready to cast impressions in the minds with these custom spiral notebooks. You can get these customized with your brand name or logo by uploading your artwork or logo at the end of purchase order page. You can also send your artwork to art@notepadsdirect.com. You can get it done in the colors of your choice and ensure it will turn out to be as you expected. You can always reach out to our art specialists at 855-866-8372 regarding any aspect of customization or color or page imprints.

Sticky pads

Custom ScratchPads

Memo Cubes

Flags

Spiral Notepads

Others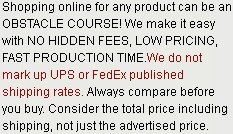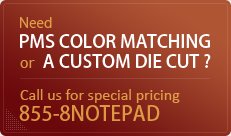 Last month our company had organized investors meet and during that time we chose to give away customized notepads purchased from you. The results were amazing; many people told us that the notepads were best they have ever received. Thanks guys, we are already in process of placing order for next batch.