Low Quantity Items
Custom notepads are no more labeled as a "big shark competitor's" promotional choice because they have become a popular choice for public gifting, too. Notepadsdirect.com offers one of the best buy pricing for custom notepads ordered in bulk and otherwise. We have tried to include some of best selling items in this selection and marketers/individuals can choose and order them as per their requirement. We are sure that most small budget marketers may find these products affordable and they can employ these for spreading word within their small group of customers, clients, or even employees in office.
Free Sample • Free Online Proof in 24 Hr • Secure Shopping
At Notepadsdirect.com, we strive hard to ensure that customers get what they expect. They can approach us with their special requirements about any of the items offered in this selection. Our experts would be happier to serve them at 855-866-8372 or they can mail us at info@notepadsdirect.com.

Sticky pads
Custom ScratchPads
Memo Cubes
Flags
Spiral Notepads
Others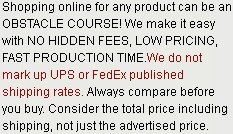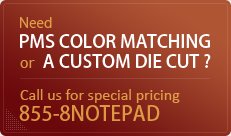 Last month our company had organized investors meet and during that time we chose to give away customized notepads purchased from you. The results were amazing; many people told us that the notepads were best they have ever received. Thanks guys, we are already in process of placing order for next batch.