Custom Printed Scratch & NotePads
We offer custom printed notepads & promotional scratch pads and also pre-printed notepads which can be utilized for capturing a business information. These custom notepads are offered in full color imprint option with 25, or 50 paged sheets, in the sizes of 3 x5.25, 3.5 x 4.25, 3.5 x 8, and 3. 5 x 8. 5, 4 x 5.25, 4 x 7, 4.25 x 5.5, 5 x 8, 5 x 8.5, 8 x 10. 5 and 8. 5 x 11. You can choose to personalize these notepads with important business or personal information.
Free Sample • Free Online Proof in 24 Hr
Scratch pads can become handy tools for taking down any type of information. These pads can also be utilized for personal purposes like jotting down to – do lists, shopping lists, or to write reminders, etc. People and advertisers can easily customize these scratch pads by their own or they can approach our designers for getting best value out of these pads.
We use your logo or your own text for the notepads white or colored paper. We are one among the largest supplier of custom imprinted notepads in the USA. We work on your custom notepads order as soon as you placeit and we ship to any location in USA. Thank you for visiting our Notepad page. For questions, feel free to give us a call at our tool free number 855-866-8372.

Sticky pads
Notepads & Legalpads
Memo Cubes
Flags
Spiral Notepads
Others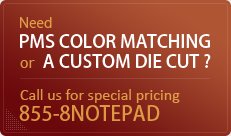 Last month our company had organized investors meet and during that time we chose to give away customized notepads purchased from you. The results were amazing; many people told us that the notepads were best they have ever received. Thanks guys, we are already in process of placing order for next batch.