Custom Shape Notepads & Sticky Notes
Custom shaped pads are extensively employed for campaigns because they offer best visibility against all odds. Advertises who are wary of big budget investments can always rely on this unique shaped pad to generate strong brand imprints. This custom shaped pad can be generated in desirable shapes and sizes owing to niche requirements. A shaped notepad makes a good brand generation tool in all seasons.
Free Sample • Free Online Proof in 24 Hr • Secure Shopping
Custom shaped pads can be availed with 20 sheets and above, depending on the promotional requirements. Each page and cover of the shaped pad can be easily customized with business information which creates brand value. Free artwork, free design, and free online proof are some of the perks offered with custom shaped pads. Advertisers who are eyeing long term benefits at one time investment can always seek this pad because people will retain it longer than usual.

Sticky pads
Notepads & Legalpads
Memo Cubes
Flags
Spiral Notepads
Others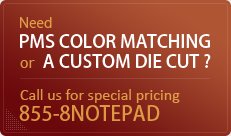 Last month our company had organized investors meet and during that time we chose to give away customized notepads purchased from you. The results were amazing; many people told us that the notepads were best they have ever received. Thanks guys, we are already in process of placing order for next batch.